Q&A: A CHAT WITH THE EDITOR OF A NEW FOOD E-ZINE BASED IN PORTUGAL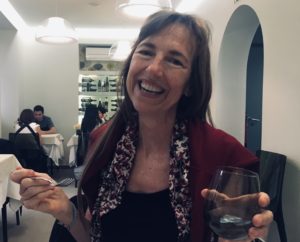 Edited by Kyle Wagner
"Don't you ever get the feeling that all your life is going by and you're not taking advantage of it? Do you realize you've lived nearly half the time you have to live already?" – The Sun Also Rises, by Ernest Hemingway
Evanne Schmarder has been there, done that on living the conventional life, getting her travel fix as best she could in the 9-to-5 world of corporate travel, but she found that her travel itch was not being scratched nearly enough.
Many of us can relate, right?
Evanne grew up in South Florida, and she has been all around the world since, as a yacht chef, houseboat dweller, writer, editor. She met her husband, Ray Schmarder, in South Florida, as well, and they tent-camped across the country for three months on their honeymoon before settling for a while in Portland, Ore. She eventually found an appealing niche in the RV world, traveling around the U.S. and Canada full-time in an RV for 18 years. From published author, monthly columnist and magazine editor to television cooking show host/producer to magazine publisher, she became a digital nomad before the term existed, and she continues to carve out a profession with words as she tastes her way around the globe.
Evanne's motto has always been "meals as memory makers and simple dishes as souvenirs," a concept that has only been reinforced since she permanently moved to Portugal in 2017. Coffee-snobbery aside, she's always been thrilled to share her current place of paradise with others that are Portuguese-challenged, and so she recently started an online magazine called Relish Portugal.
I was lucky enough to get to meet Evanne and Ray for the first time on my trip to Portugal in 2019, and I chatted with Evanne about the new site, which is a lushly photographed and informative homage to all things Portuguese, about her motivations and tips for freelancers, whom she encourages to pitch her with story ideas based on travels around this popular and gorgeous country.
Why did you decide to start Relish Portugal?
Like so many explorers, searching out the local food scene helps me get to the heart of a destination. In my travels, I'm always interested in the sliver of a sidewalk that's full of locals sitting at tables, enjoying great conversation over a delicious meal, snack or coffee, or the seemingly mysterious shop full of fascinating food products that I can't pronounce but simply must try.
When I made the move from California to Lisbon, Portugal, my standby kitchen tricks weren't as reliable as they were in the States. Plenty seemed similar yet there were different approaches (delicious fresh fish, but rarely filleted). I was hungry, ready to do a deep dive into the food and flavors of my new home, to prepare in my new home. I began searching for food magazines to educate and assist me, but alas, I couldn't find any that I could read. There were several titles that were full of recipes and kitchen tips, but they were all in European Portuguese. So, pooling my past experience and my passion, I decided to start one. And truly, it's a labor of love. Labor? Of course. Love? Without a doubt.
My aim is to provide the information that I personally look for as an expat home cook. Confirming that mine isn't a lonely search, the response to Relish Portugal has been amazing. Inside the online magazine, I offer recipes, ingredient spotlights, stories from food luminaries and everyday food lovers both in Portugal and outside its borders, details about traditional products that aren't well understood, and where to find non-Portuguese ingredients (hello, Chile de Arbol).
What's your favorite thing(s) about living in Portugal?
Hands down, the people. They might appear dour and unapproachable as you pass them on the sidewalk, but a smile and a "bom dia" lights them up. In polite conversation, they'll almost always ask how you like their food. Start talking about favorite recipes or ingredients and they are likely to spend a generous amount of time sharing some of their flavor insights.
They might also ask how you like their country. When you reply in the affirmative, you can feel their swell of pride and joy. It's beautiful.
What qualities do you appreciate in a freelancer?
I'm always interested in working with freelancers who are reliable, easy to work with, need very little handholding, and deliver a well-honed piece.
Coming from a freelance background myself, I understand pressures and deadlines. On the publisher side, I have three principles:
Even after discussion, if you need further clarification on my audience or what I specifically need from you, please ask. It's definitely not a bother.
If I specify a word count, meet it. I don't have the time or the interest in chopping or enhancing your piece to meet the specs. That's your job.
In a word: deadline. Meet it every single time. Beating it is fabulous, but meeting it is make-or-break. Miss it (without communication and agreement), and I won't ask you to my publication again.
Who are some of your favorite food and/or travel writers?
I really enjoy Mark Bittman's approach to cooking. I find his recipes appealing, spot-on, and easy to follow.
I'm also a big Michael Pollan fan and find his curiosity very contagious. I especially loved his 2016 Netflix documentary series Cooked. It's interesting how he was able to shepherd a great food-focused book into a fabulous TV series.
I don't typically read bona fide travel books, but I do enjoy novels based in locations I've visited. A couple that come to mind are John Jakes' Kent Family Chronicles and more recently, The Neapolitan Novels, by Elena Ferrante.
What is your biggest pet peeve about food writing?
Because I live in a country that is in the midst of a whirlwind tourism cycle, I see plenty of pieces with "must" recommendations. Very, very few are original. I get it: A crispy-crusted, cream-filled, warm-from-the-oven pastel de nata is dreamy — yes, don't miss it — but what about the delightful ouriços that can be enjoyed while sitting at a sidewalk oceanfront bakery in the charming surf town of Ericeira?
What do you look for in a food experience when you travel?
Regardless of whether I'm out for a fancy dinner or stopping in for a bowl of soup, I'm looking for a genuine feel, a warm welcome, few if any tourists, and just the right amount of banter from the folks working at the establishment. I want to eat something I can't get anywhere else in the world, and if I enjoy a dish, I often try to recreate it at home and for my audience.
Name your three favorite destinations for the cuisine.
Besides my bountiful Portugal?? Hmmm…
No-brainer: Italy. Specifically, Naples for their phenomenal AVPN-regulated pizza and their traditional espresso scene.
Christmas all year: New Mexico. Direct from the state famous for chile (not chili), everything tastes better with a healthy dose of red and green.
For my piehole: Australia. As a kid I loved potpies, so I'm not sure what the wrinkled nose was all about when an Aussie partner recommended that we search out meat pies along our route. From high-end fillings to a humble workman's lunch, they're the bomb!
What advice would you give to a beginning writer?
I know it's tempting, but don't try to be everything to everyone. Choose a niche — something that will keep you interested and excited — and become an expert. Read your favorite type of publication and watch for voices/styles you'd like to emulate. Look for angles that haven't been covered from here to kingdom come. Understand your audience and produce relevant content. Have someone else proof your work. Write. Keep writing. Write some more.
Quick tip: I'm in Miami right now, waiting to embark on a cruise in a few days, and I'm astounded at how many people are freaking out about coronavirus. "Aren't you afraid of getting sick?" they ask.
My answer: Not really. I mean, of course I don't want to catch this obviously problematic illness, but I'm also a person who gets a flu shot every year. The flu kills close to 15,000 people a year in the United States – something that we forget when there's so much attention on a new virus. So, a better question would be, aren't I afraid to be in Miami, where the flu virus is experiencing one of its worst seasons in decades? Again, no, because I also could easily get the flu in my hometown.
Being aware and careful – washing hands frequently, avoiding obviously sick people, not touching my face – seems to be helpful, but if I get sick, I get sick. I'd rather not pass up the chance to visit somewhere new, and I prefer to live my life without worrying needlessly. But that's just me!
Media trip: Sometimes it's easier to get on a press trip in a place that gets less traffic. A good example of this would be New Hampshire, which is definitely less frequently visited than places such as Florida or California, and thus often more amenable to welcoming freelancers than destinations with a more robust tourism base. Check out the website for the New Hampshire Visitors Bureau, which offers to help writers connect with FAMs (familiarization trips, another phrase for press trips) and endeavors to assist with story ideas, itineraries and photos. Email the communications manager from the press/media page to start the process.